新闻资讯
联系我们
泉州达锋机械有限公司
手机:18959737879(潘)
手机:15659886100(傅)
电话:0595-22607879
传真:0595-22607879
邮编:362300
地址:福建南安霞美镇滨江工业园区
The 20th China Xiamen International Stone Fair is Postponed to October
时间:2020-04-10 08:14:23 来源: 总浏览:199 字体:16px | 14px | 12px
The 20th China Xiamen International Stone Fair is Postponed to October
Dear Exhibitors, Visitors and Partners,
Until now, the situation in controlling the outbreak of COVID-19 in China has continued to improve, with the normal order of work and life seeing fast resumption. Xiamen Stone Fair has been monitoring the global situation closely. From what we have been going through in China, we believe that with joint efforts, the pandemic will be controlled and prevented soon around the world. To ensure that, it has now become necessary to keep waiting until the dawn is breaking. Xiamen Stone Fair is an annual reunion for the stone industry. In order to achieve the events greatest value, the health and safety of our exhibitors, visitors and partners must be put first. Xiamen Stone Fair will stand with the whole industry as always and present to everyone a safe, well-organized and vibrant industry event.
After deliberate consideration and evaluation, three decisions were made as follows:
1. The 20" China Xiamen International Stone Fair is further postponed to October 27-30, 2020.
2. The 21" China Xiamen International Stone Fair will be scheduled on May 18-21, 2021.
3. An online platform, "Cloud Xiamen Stone Fair" will be launched on June 6, 2020 with uninterrupted service throughout the year.
We apologize for any inconvenience caused by the rescheduling of the fair. At present, the Organizing Committee is engaged in intensive and orderly preparation. We promise to arrange the work properly and create a pleasant experience for you. We are confident that the difficulties be overcame and everything will be getting better. Let us join hands in fighting against the pandemic, restoring normal work and life and jointly endeavoring for a better future.
Xiamen Stone Fair Organizing Committee
April 8, 2020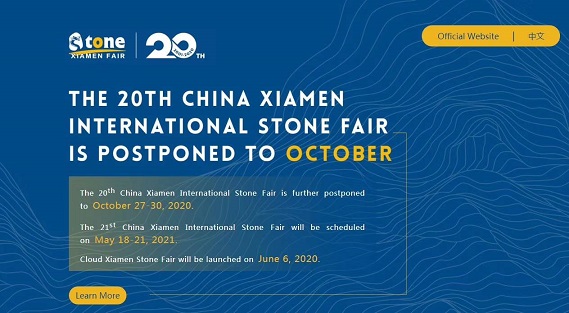 DAFON STONE MACHINERY
Website:www.dafonmachine.com